"ATTENDANCE MATTERS"
Albert Schweitzer Elementary School
30 Harmony Road

Levittown, PA 19056
215-809-6380
215-809-6383 (Fax)
Mrs. Peggy DiPaolo - Secretary
Mrs. Cindy Wesley - Clerk Typist
---
Beginning June 22, 2015, our summer hours will be 7:00 AM - 3:00 PM
The office will be closed from 12:00 PM - 1:00 PM for lunch
Due to the construction on the Schweitzer/Sandburg complex, our temporary office will be located in the Sandburg Auditorium.
Please contact us prior to making a trip to the temporary office. With summer vacations and construction, we wouldn't want our families to arrive to an unstaffed office. Thank you.
---
NEW STUDENT ORIENTATION
New Kindergarten Students - 1:00-2:00 p.m.
All Other New Students - 2:15 - 3:00 p.m.
---
NEW LOCATIONS FOR STUDENT DROP-OFF/PICK-UP FOR 2015-2016
For the upcoming 2015-2016 school year, there has been a change in our pick-up/drop-off locations. Regular school buses will unload and load at the "horseshoe" on Harmony Road by the H-Wing. Vans and other special transportation will pick-up and drop-off at the main entrance. Walkers will also enter and leave by the main entrance. Car riders will continue to be dropped off and picked up at the rear gymnasium doors off Heartwood Turn.
---
---
SCHOOL HOURS:
9:10 am to 3:35 pm
Doors open at 8:55 am

(breakfast served at 8:50 am)
---
PLEASE SCROLL DOWN
TO THE BOTTOM OF THIS PAGE
FOR IMPORTANT INFORMATION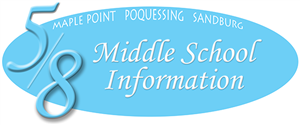 New 5/8 Middle School Site